07 avril 2010
Tim burton is an American director. Master of the fantastic and excellent storyteller, strongly influenced by the writer Edgar Allan Poe, we owe him in particular Pee-Wee Big Adventure, Beetlejuice, Batman, Edward Scissorhands , Charlie and the Chocolate factory and Sweeney Todd and more recently Alice in the wonderland.
He also drafted the scenarios of Mister Jack's strange Christmas and Corpse Bride, two cartoon movies.

What interests me at tim's burton's it is this phase of drawings preparatory before the realization of its movies.
This first sketch was realized when it worked for waltdisney on the cartoon Taram and the magic cauldron.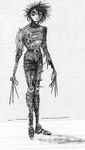 ; white-space: pre-wrap;">Edward Scissorhands movie and legendary character of tim burton's universe. For him the image of a character endowed with scissors by way of hands trots him in the head since its earliest childhood.
Finally this sketch goes out of the universe of Mars attacks. We see here Lisa Marie, in Martian asked to murder the president, sliding without a word in the corridors of the white house, it is one of key moments of Mars Attacks.
Commentaires sur Tim Burton's fantastic universe.